Handling Tech
Handling and Loading Systems
The automation providers HandlingTech (HT) are located in Stuttgart and are technical specialists in supplying automation solutions for all manufacturing processes.
Their machine tool loading solutions combine many disciplines apart from simply loading and unloading machine tools including automatic gauging, de-burring, washing, drilling, inspection, assembly and testing and their high standards of quality, flexibility and innovation guarantees optimum automation.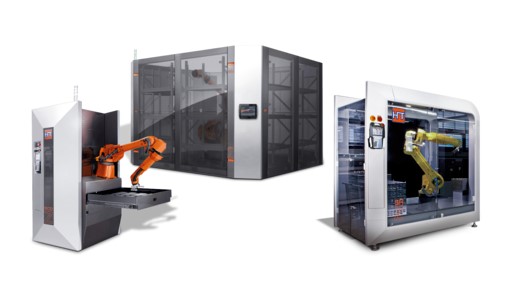 Various solutions are offered including Robax robot based loaders. Fanuc or Staubli 6-axis robots are used for handling parts from 1g up to 700 Kg. These are very versatile systems are are suited for loading a huge variety of machines of all types and applications. Various component storage solutions are available including the use of pallets, conveyors, rotary tables, data matrix code reader/writers and special one-off solutions. Siemens S7 controls are used with software links to the donor machines own control system for seamless handling tasks.
HT Portax systems are multiple axis portal handling systems. These fast loaders are based on linear CNC axis for the fast and accurate loading of machines such as grinding machines and lathes where fast cycle times dictate the handling of large numbers of small components.
For simple and cost effective loading solutions then the HT Proax systems are ideal. These pneumatic based systems are ideal for loading simple machines of all types.
HT also offers Pallet Changer Loaders where a very compact and fast load/unload cycle is required with a maximum of 5 NC Axis. The HT range is completed with conveyor based loaders and of course bespoke one-off designed special purpose loaders to suit a specific requirement.
HandlingTech are part of the Hutzel Group with over 350 employees and with sales and support centres throughout Europe and further afield in countries such as India and Mexico with exports to over 20 countries worldwide.
HandlingTech are proud winners of the international 2011 IF Award for product design.
HandlingTech – Automatically Better!